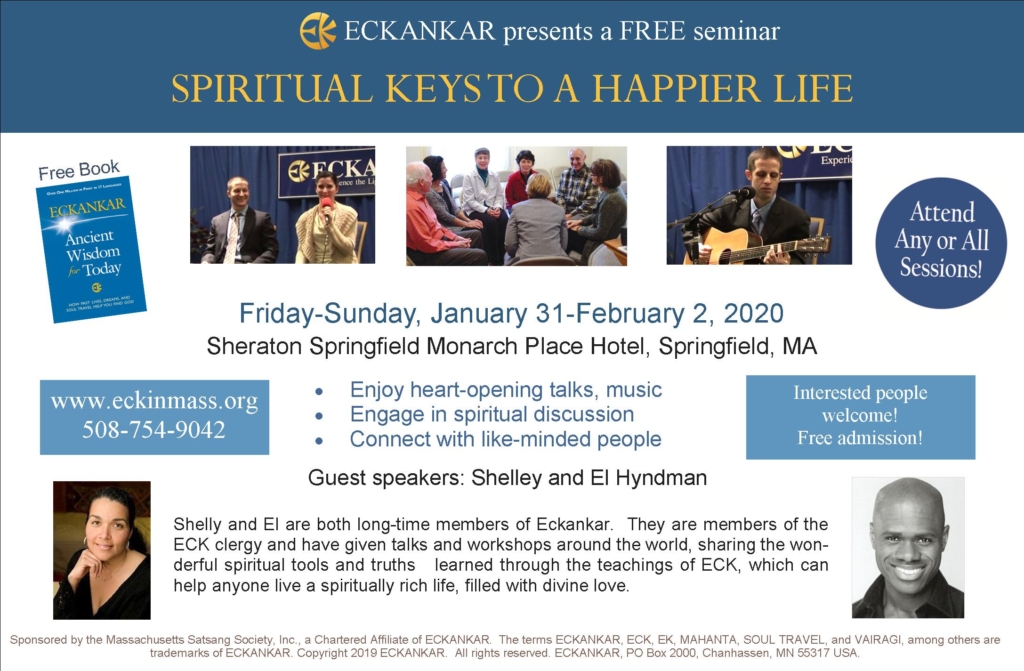 You are welcome to join us for a FREE special Friday night workshop.
Opening the Door to Inner Guidance


Facilitators: Shelley and El Hyndman
8:00-9:30 pm
Join us for a well-rounded, inspiring workshop.  It can benefit both those new to Eckankar and long-time students alike.
Discover spiritual tools that may work for you as you deal with life's challenges.
PRE-REGISTER FOR SEMINAR
The 2020 seminar is free to those who are new to Eckankar.  No need to pre-register.
For ECK students the suggested donations are:
Adult $50 ($55 at the door)
Additional family members $35
Single sessons-Adults $35, additional family members $25
Adults under 30 $20
We also offer fully staffed children and youth programs
with a suggested donation of $10 per child.
For those not staying at the hotel there is a reduced parking fee of $8.
This is subject to change as the hotel does not own the parking lot.
Day guests will need to bring in the ticket or coin chip
(depending upon where they park) in order to get it validated for the reduced rate.
Each time the guests leave the parking lot they will be charged the reduced rate.
For those staying at the hotel, the overnight parking fee is $10.
There is free parking at the MGM parking lot a couple of blocks away.
To pre-register, use the Paypal "Add to Cart" registration button below:
You can also send your donation with name address and any other necessary info to:
Massachusetts Satsang Society, Inc
118 Woodland St, #1
Worcester, MA 01610
Click this link for a mail-in pre-registration form.  
PLEASE NOTE:
If you are unable to meet the suggested donation,

contact us at eckinmass@eckinmass.org
SPECIAL HOTEL DISCOUNT
The Springfield Sheraton Monarch Place Hotel is offering a special discount rate of $110
(single, double, triple, quad) for our seminar attendees.
"To book a reservation at the Sheraton Hotel at 413-781-1010 and mention that the reservation is for Eckankar.
The cutoff date is January 16, 2020